As a full-time wedding and elopement photographer based in Montana, I know how important (and difficult) it is to find a vacation rental that is absolutely perfect for an elopement or intimate wedding. If you are planning your big day on a budget, or if you just want to ensure all of your guests can gather in one place without the hassle of finding hotels, utilizing a vacation rental is the thing to do. I've put together a list of the Best Elopement Vacation Rentals in Montana for 2022 from Airbnb and VRBO. Spanning the beautiful state of Montana, there are adorable cabins, luxury chalets, and homes big enough to fit all of your friends and family in one place.
Trust me when I say, I am barely scratching the surface with this list. Down below, you will find properties fit to house just you and your honey all the way to a luxury rental for 20+ people. During my research, I found that 10-15 people is the sweet spot – anymore than that, and your wallet might start to hurt.
**Disclaimer: this is just an opinion of mine as I show you what Montana has to offer. All opinions are my own and do not reflect Airbnb or VRBO. Make sure to check with property owners before booking to see if they allow events.
Best Elopement Vacation Rentals in Montana
Elopement (2+ guests)
A cozy cabin right on the shores of Lake McDonald in Glacier National Park!? A true treasure chest find. Surrounded by an old cedar forest, you'll get to enjoy being just steps away from the pristine glacial lake. This one is definitely on my bucketlist.
This classic A-Frame cabin is located just a hop, skip, and a jump away from Glacier National Park. Unwind at the end of the day with a soak in the hot tub underneath twinkling lights tucked away in the forest. Yes, please. This one is at the top of my "Best Elopement Vacation Rentals in Montana" list for sure!
Can't you just picture yourself swinging in a hammock overlooking the lake? Or maybe having a cup of coffee on the balcony as the sun begins to rise? This secluded lakefront cabin is just 10 minutes from Glacier National Park.
Dreaming of celebrating in a quaint cabin tucked away on a ranch? This beautiful cabin is surrounded by towering pines and a beautiful pond view with mountains in the horizon.
This home has all the modern amenities you could want AND it over looks a roaring river near Missoula. Safe to say, you'll want to make this place your home (I don't blame you). Perfect for those who love to fish or just need some R&R.
Another breathtaking cabin situated on a Blackfoot River – an angler's dream! Can't imagine waking up to these unparalleled views every morning.
This custom-built chalet offers breathtaking views of Lone Peak (and an incredible hot tub). If winter is your jam, this is the place to say "I do". Think of saying your vows on the ski slopes!
Located in the heart of Paradise Valley, this private home's only neighbor is Emigrant Peak. Even though it would be hard to leave this home with its' mountainous views, Yellowstone National Park is just a 30-minute drive away. And there is plenty of room for you, your honey, and a couple close friends.
This secluded home is a 15-minute drive to Gardiner (the historic North entrance to Yellowstone National Park). Enjoy soaking in the nearby hot springs and fishing on the Yellowstone River.
Micro Wedding (10-15 guests)
Can't imagine getting married without your closest friends and families? Situated on an acreage, this property is perfect for a large family to gather to celebrate YOU and your honey! This listing is for an entire retreat with multiple buildings and cabins, and totally breathtaking!
If a modern vibe is more of your style than a rustic cabin in the woods, this is the place for you. Located steps from Georgetown Lake, each bedroom in the home gets to take in the incredible views. With large common areas and a private dock, this is the perfect place to gather for an intimate micro wedding.
This luxurious home located on 21 acres and sleeps 16 people. It's located minutes from downtown Livingston, and less than an hour from Yellowstone National Park. The views from this European style home are absolutely breathtaking.
This rustic retreat is perfect for those that crave the cabin feel with a luxurious twist. This beautiful home is tucked away in the woods and located just minutes from Whitefish. Whitefish Mountain resort is just 11 miles away, and 29 miles from Glacier National Park.
If you're looking for a "family cabin" vibe, this one is for you. With a large primary building and 2 sleeping cabins, your family and friends will enjoy the communal feel.
Views? Yes, please. This property is located on Lake Blaine, offers a private boat launch, and is minutes from Glacier National Park. Imagine your morning coffee or post-elopement champagne toast on that dock!
Boat dock? Check. Guest cabin? Check. Hot tub? Check.
When I think of a lodge, this is what I imagine. Floor to ceiling windows, and remarkable views of the lake and mountains. Consider me SOLD. The deck is perfect for a tiny reception with your close family and friends.
These two lakefront cabins nestled on a cherry orchard are perfect for a gathering. These 1940s cabins have been restored and given a new life.
This rustic 13,500 sqft. property boasts views that you need to see to believe. The indoor gym, volleyball court, and hot tub are just a few of the incredible amenities offered here.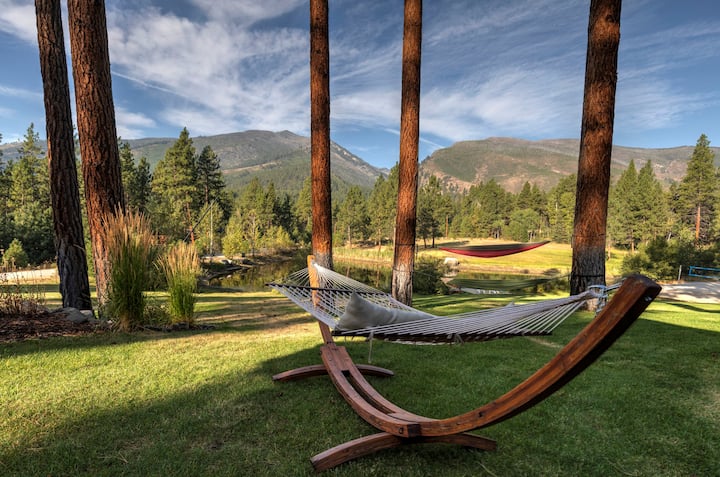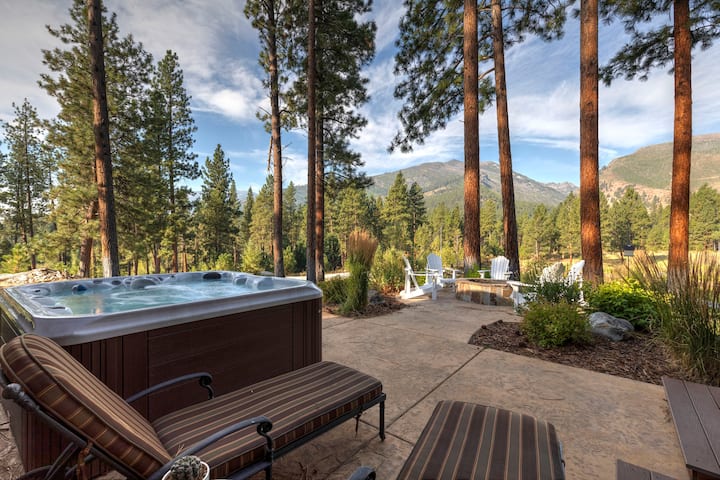 Think "Montana luxury" meets "modern retreat". If you've always dreamt of experiencing just how big the sky is in Montana, this is the place to take it all in. Oh, and if fly-fishing is your thing… look no further – you'll have access to some of the BEST that Montana has to offer.
If you're wanting a space that feels like it's all yours, this is the place. This lodge is near Helena, and far from neighbors… perfect for your microwedding.
This group of cabins are perfect to rent out for your family and closest friends! The cabins are located near the Bridger and Gallatin Mountains. Stunning.
Intimate Wedding (25-30 guests)
This beautiful intimate venue can hold 30+ people. It's the perfect place for those that want to camp or just have a good ole' celebration with your friends and family. Bonus? This listing has wedding photos for some inspo!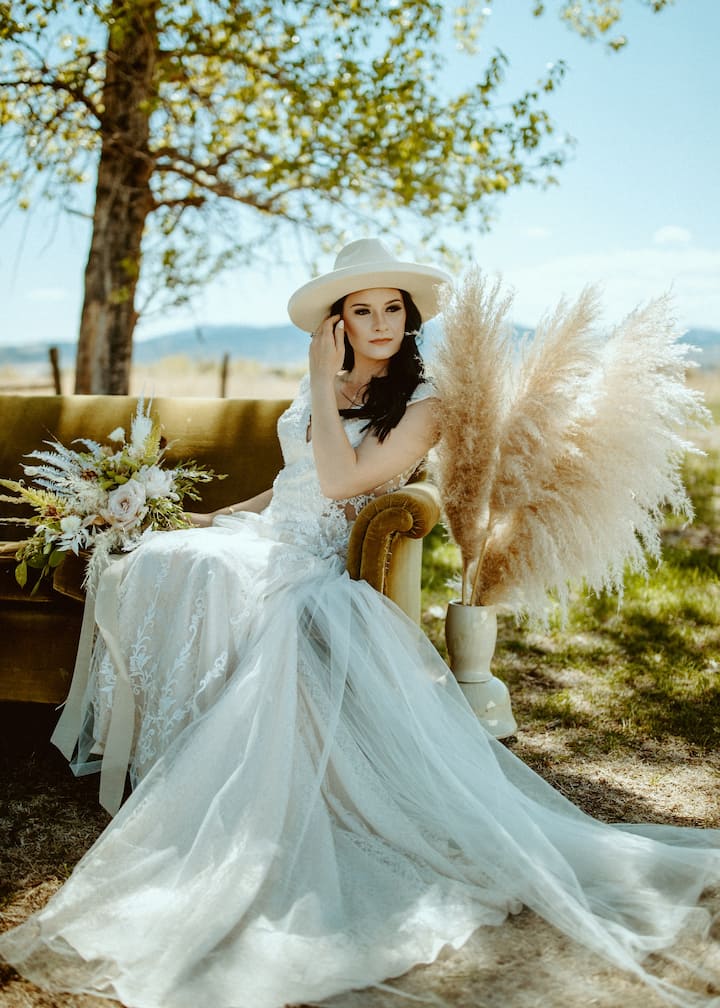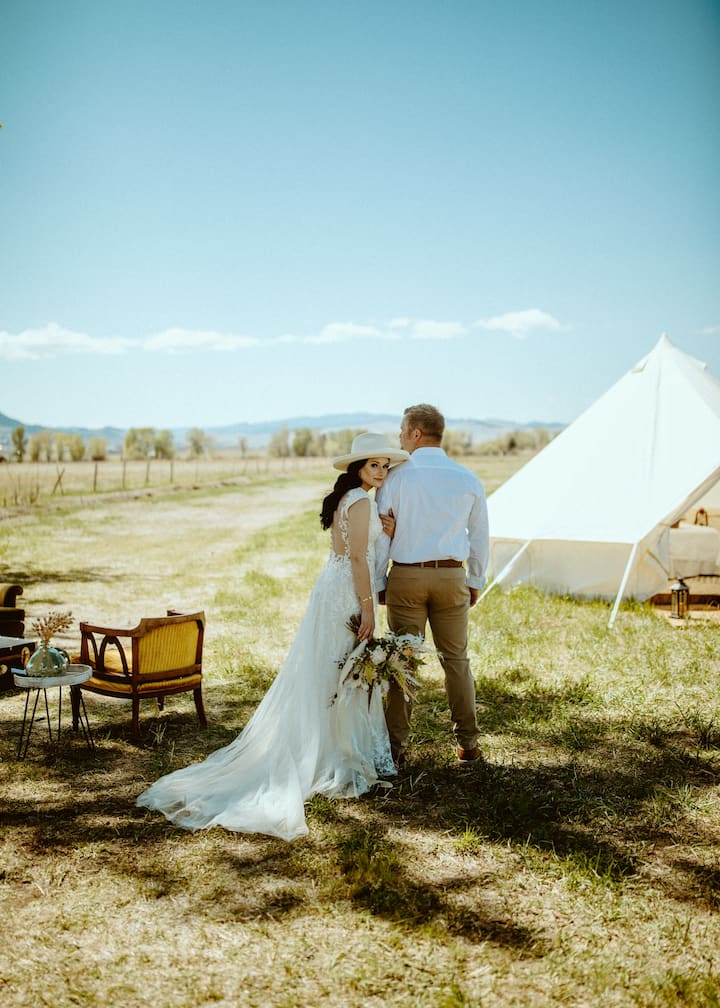 Stunning waterfront property offering a spacious patio, hot tub, incredible views, and plenty to do.
This unique group of cabins are located just miles from the North Entrance to Yellowstone National Park and the Yellowstone Hot Springs. Waking up each day, you'll get to take in mountainous views and be with a couple hundred yards from your guests' cabins.
This stunning property boasts 35 acres with water and mountain views in Northwestern Montana. Glacier National Park is a 3 hour drive, and Spokane, WA is just 2 hours away.
This is a unique one. Located in the Rocky Mountains, south of Missoula, this 40 acre estate has over 25,000 sqft of space! Imagine saying "I do" in the solarium. Or, take in "Big Sky" without any light pollution. The resort grounds have a hot spring pool, a sauna, and 2 hot tubs heated by the natural hot springs.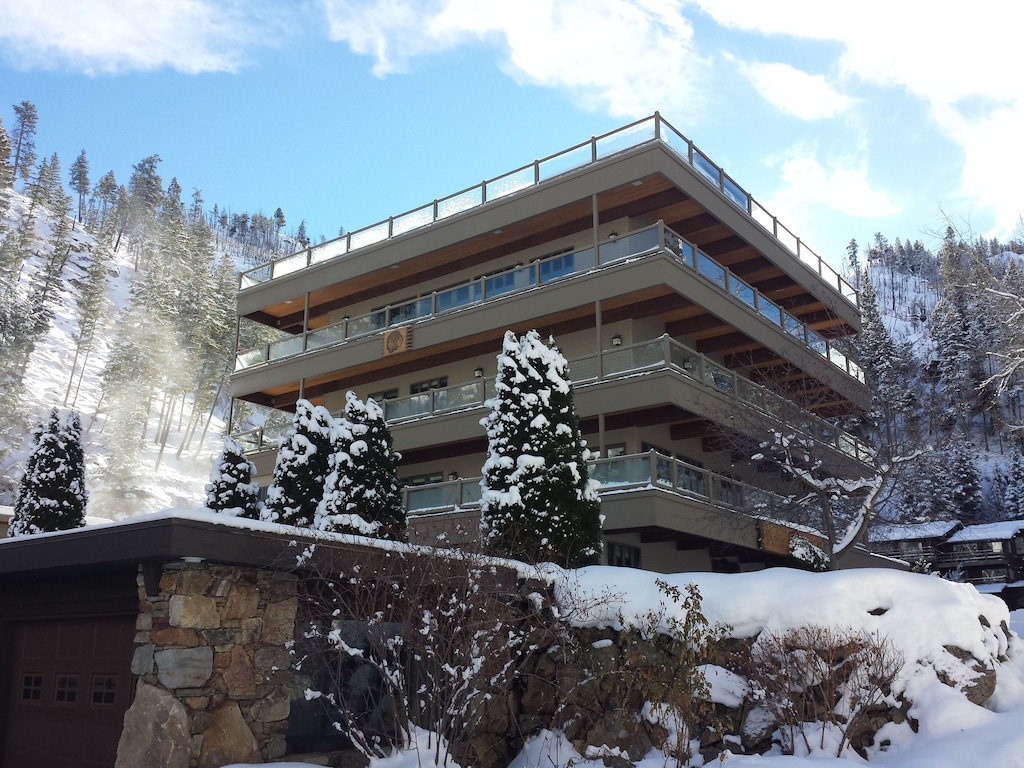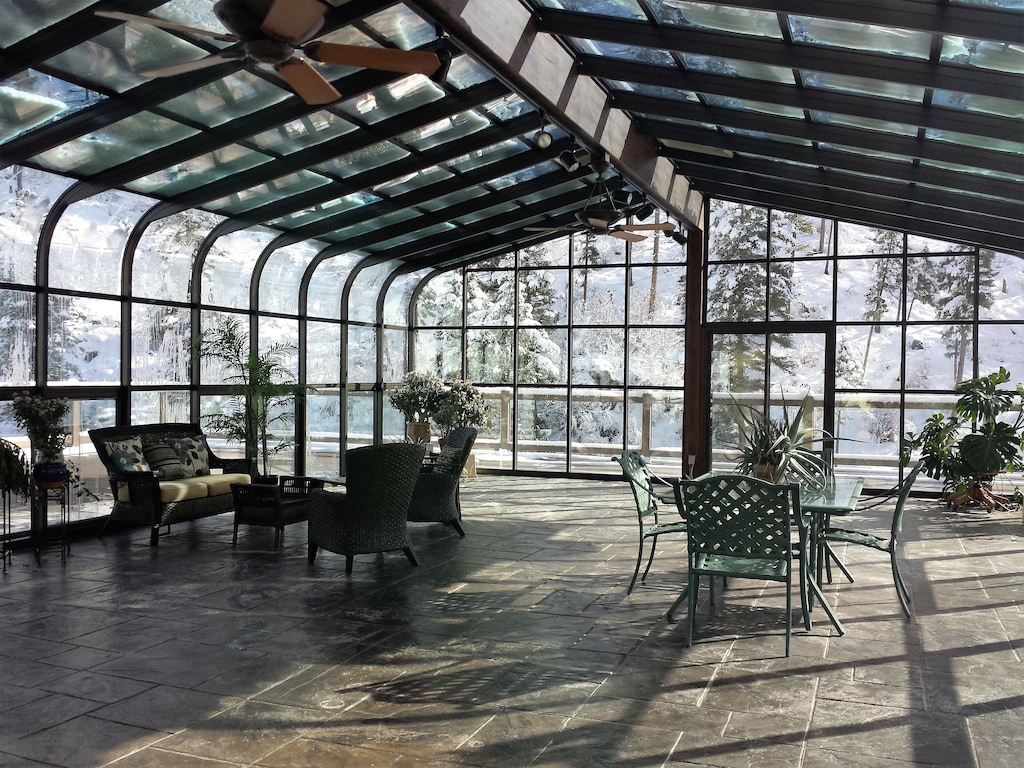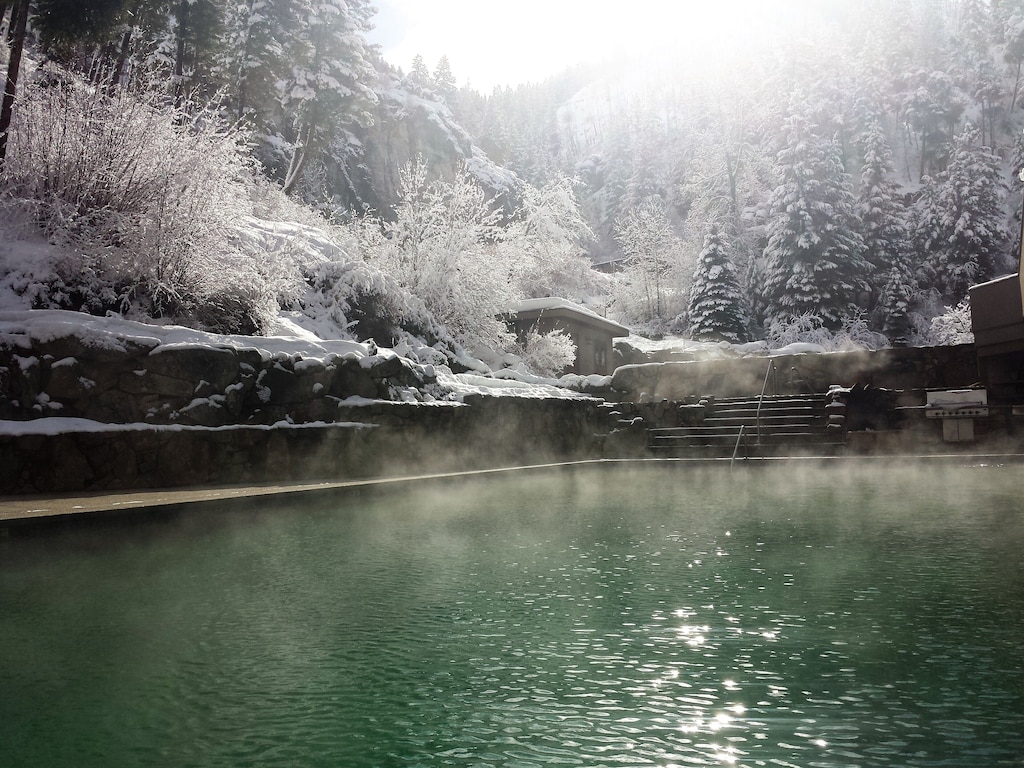 Not all rentals in Montana have a "cabin feel". This historic mansion is newly remodeled from its' former 139 year old glory. Beautiful interior offering plenty of space for a large group.
This incredible property offers 78 acres of Montana to enjoy. There are 45 acres of meadow and creek access and a lawn with views of Ross Peak. The list goes on and on. But the best? It sleeps 36 people in 15 glamping tents WITH king beds. What!? YES.
Alright, now THIS one gives those "cabin feel" vibes. Get this… it's located on 450 ACRES. With a stream running through the property, these views are absolutely out-of-this-world.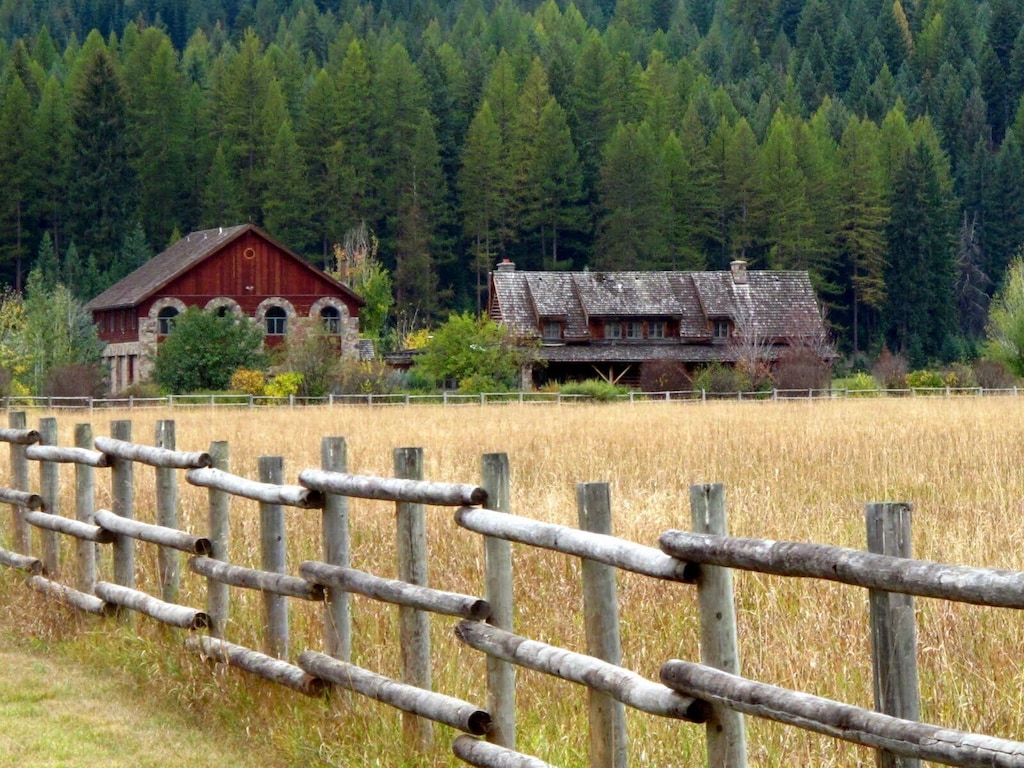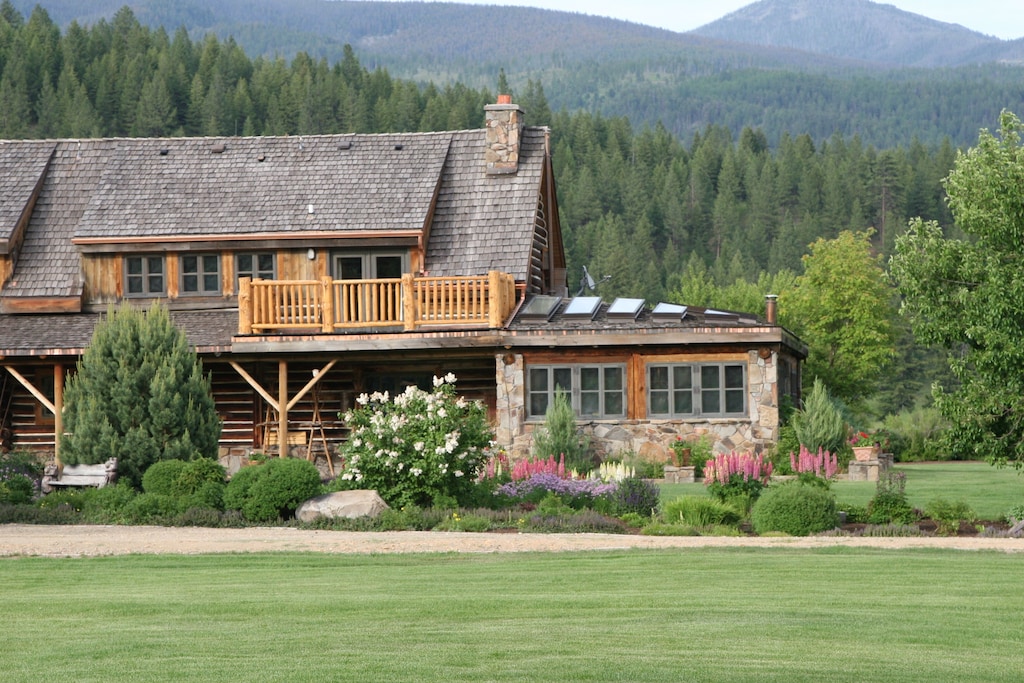 Alright folks. There ya have it. A roundup of some of the BEST Elopement Vacation Rentals in Montana to host your elopement or wedding. A couple tips before you book: VRBOs are the best place to find spaces that cater to large groups. Make sure to check with the host to see if they allow events – be open and explain exactly what you are planning (activities, number of guests, food, music, etc.)
Happy planning, my friends! If you're planning to elope in the mountains, be sure to check out my Mountain Elopement Packing List. As always, head over to my Instagram – I'd love to be friends @sydneybreannphoto. Are you ready to wander? Let me know if you check any of my picks for the Best Elopement Vacation Rentals in Montana.
**Please note, aside from the featured (and first) image on this blog, all images were sourced from the linked vacation rental. I own no rights to these images.